Hello and thanks in advance for dropping in to see my DD. I spent today putting together all pages from Day Six to Thirteen. I am going to post these in reverse order so just keep on scrolling if you want to see all the pages!
Day 13
There was a special on matte "photo paper" at Staples last week so I bought two packages. It seems pretty much just like cardstock so it is fantastic to journal on. All my computer generated journaling has been done in PSE so far. The photo on this layout was printed on matte paper.
Day 12
This was the first time I worked with an overlay in PSE, that's the border around the photo collage. I resized it for a 4x6 canvas.
Day 11
I had no photos for today, just didn't get around to taking any.
Day 10
Day 9
I cut out portions of the program for this spread which worked great since my photos were less than stellar.
Day 8
Day 7
Day 6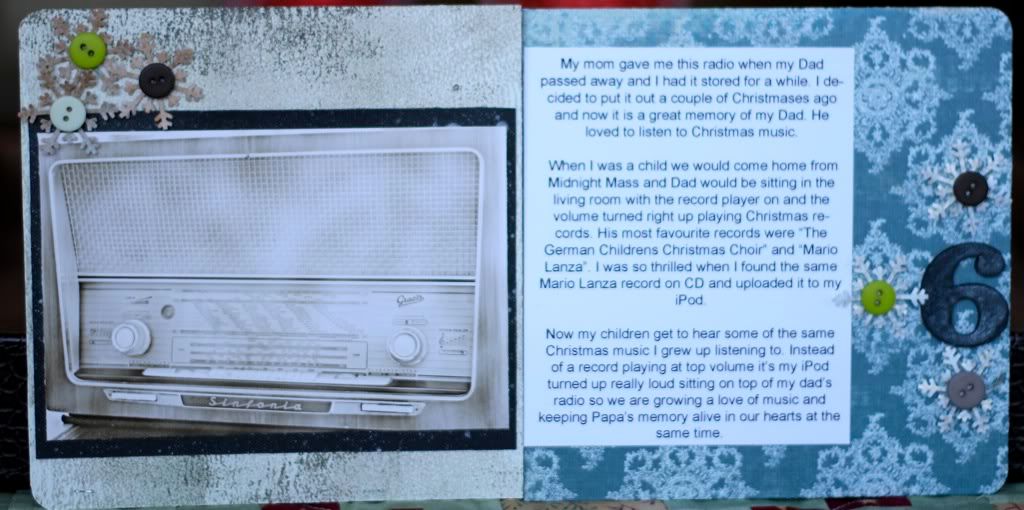 This photo was fun because I used a Pioneer Woman PSE action for the vintage look for the vintage radio.
So that's the last 7 days and I even have day 14 finished too but you'll have to pop by tomorrow to see that one!