Hello and welcome to the first SOUS Project Life challenge of the New Year along with some exciting SOUS news!!
Whether you are taking on Project Life for the first time or 5th time a challenge is a fun way to stay motivated and inspired to complete a spread. One thing I firmly believe about this project is that you do what works for YOU. Maybe that's a 2 page spread per week, documenting monthly only or a quarterly wrap up of happenings in your life. There are no rules!
Before I get to this week's Project Life challenge let's talk about the exciting SOUS news...
beginning this month we'll be offering blog candy from some fabulous sponsors and our first sponsor this year is...
Scrap Shotz
is a fabulous monthly kit club and online store with a great online community as well.
Here's the fabulous prize up for grabs...
and those PL cards aren't just for Project Life, I've made cards with them and used them on traditional scrapbook layouts as well!
All you need to do is join ANY blog challenge of the month, Project Life, sketch or die cut and link us up to your project at the
SOUS blog
.
Now on to this week's challenge, Vellum! For this challenge I punched a 3"x 4" card from a piece of blue vellum with my WRMK punch. I then took the outside edges of the punched vellum and scored them with my scoreboard to add some texture. I rounded the corners and created a frame with the vellum on the lower left photo. I added snowflakes to reinforce the snow theme and finished off with a PL journal card and filler cards from the Clementine core kit.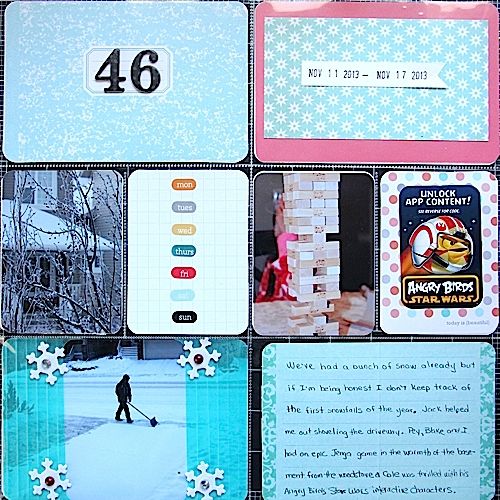 I also used vellum in a different way on this page: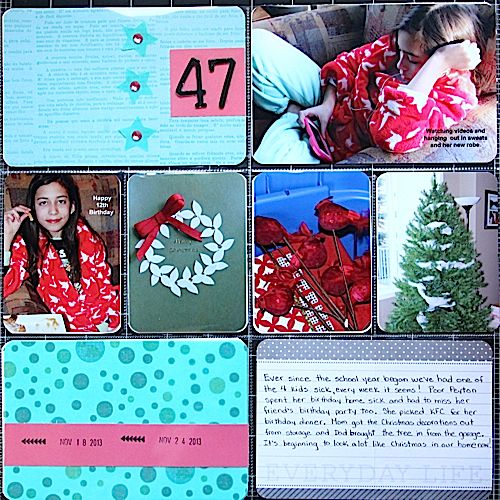 Here I've added punched stars from vellum to the title card and overlayed the bottom left filler card, which was a scrap of paper that didn't really work with the colour scheme, to make it work with the rest of the spread.
Vellum is so versatile so I hope you'll show us your take on this challenge at
SOUS
and be in the running to win this month's fabulous blog candy!
Thanks for stopping by.